Aura. Smooooth as… lasts longer
May, 2021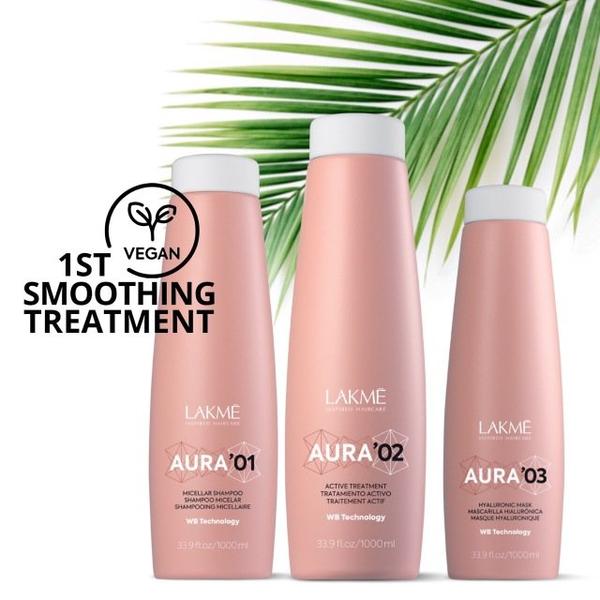 Hair smoothing or softening treatments have been used in salons for over 20 years but are only now starting to become as popular as cutting or colouring. Loosely based around the chemical straightening service but designed to be a much softer result with less damage and harmful ingredients. When these treatments first arrived in salons the active ingredient was formaldehyde. Of course hair products with formaldehyde don't exist in most countries now but have instead been replaced with keratin. Keratin-based smoothing treatments have been okay for now but I have tried quite a few different brands and honestly I haven't really found one that I loved.
I am excited to tell you about our newest smoothing system called Aura from Lakmè. Aura is all about hydration and the active ingredient that provide this hydration is a premium hyaluronic acid. Hyaluronic acid is widely used in skincare to provide optimal hydration, it is an essential element found in the human body that acts like a sponge, it's molecules are hydrophilic water-lovers that are able to store water in cells and tissue. This is the reason I am so in love with this product and why it is the best smoothing system I have come across. Of course smooth, soft hair is going to come from ultimate hydration right? Aura is the first biotechnological hair treatment formulated with organic ingredients that straightens and softens the hair fibre and eliminates frizz, it enhances natural shine and achieves optimal hair beauty.
An Aura smoothing treatment will cost anywhere between $55 – $350 depending on the type of treatment you have done. It will also last anywhere between 4-5 washes and 6 months. The different treatments vary so that your stylist can choose the best one for your hair type and occasion. I'd highly recommended this service for anyone wanting more manageability with their hair or those that just want less frizz and more softness.